Wedding Wednesday Series
Categories
Weddings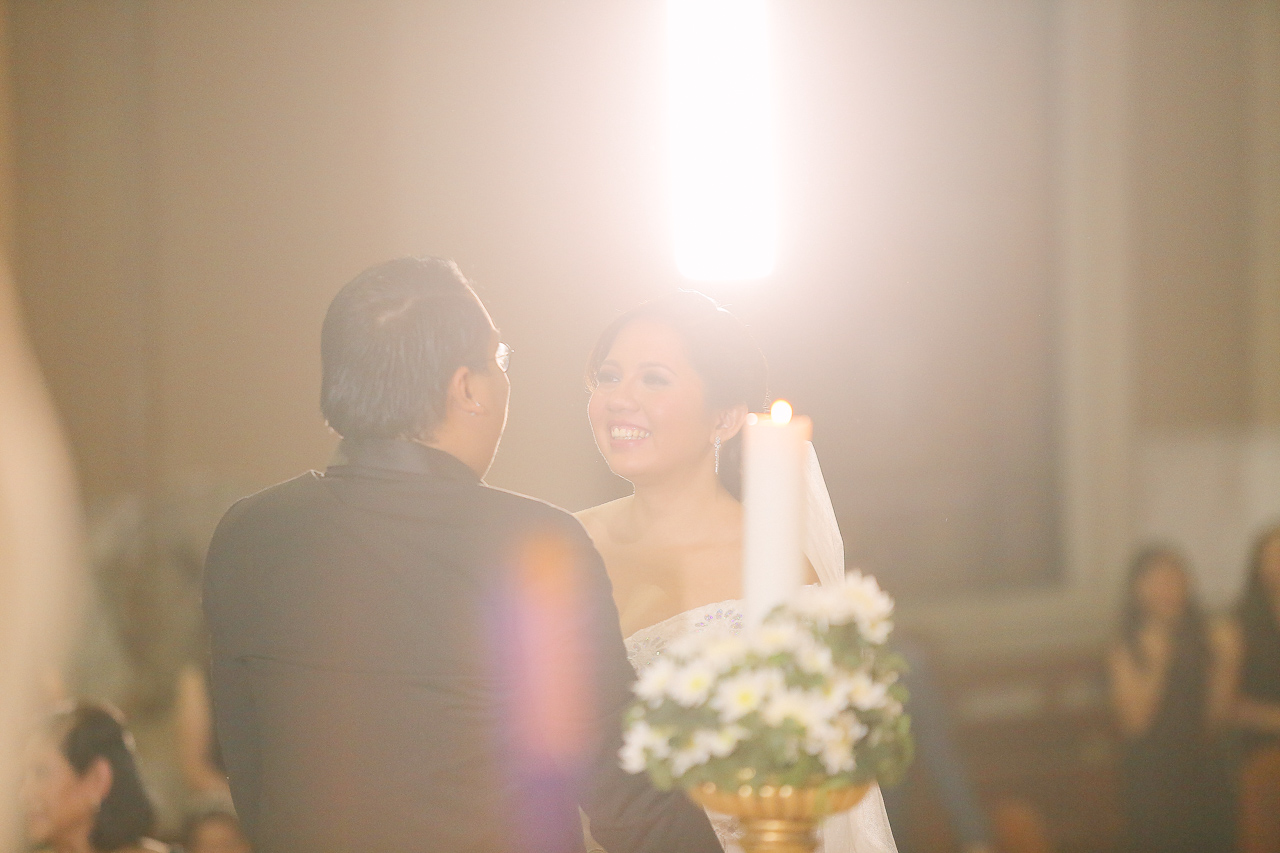 I've decided to dedicate Wednesdays for weddings. Being the middle day of a 5-day work week, Wednesdays are those days that you just got to get it over and done with. It's called a 'hump day' for a reason anyway. So to counter the negative vibes attributed to Wednesdays, I will choose to focus on positive things and what better way to do it than think of pleasant events, and in my case, it's our wedding! As of this writing, we've been married for 99 days (100 days tomorrow – yay!) and I would like maximise this 'honeymoon' stage of our married life by writing about our special day. 
Since the first day that Karlo and I got engaged, we've been based here in Australia. And being based overseas while planning for a wedding in your home country is not the most ideal setting, given the extensive amount of preparation that needs to be done. But hey, we're not the first couple who have been in this kind of arrangement, so if other couples have successfully done it, we have no reason not to. 
We went back to the Philippines a month before our wedding and needless to say, the weeks leading to our special day were nothing but stress and bridezilla stories. I even got terribly sick days before the wedding and I was nursing a really bad cough on the wedding day itself. I wouldn't go into the small details but if you are particularly interested in those, you can contact my Maid of Honor, Aileen Velasco, and my Honorary Maid of Honor, Patrick Andre Santos 😀
I really didn't take the time to structure how this 1st Wedding Wednesday post is going to turn out but I was inspired with one of the questions asked by my friend over dinner last week. She asked what were the most memorable moments on our wedding day or those moments when we felt we were the happiest. 
Suddenly, a flashback of 29 February 2016 happened…
In hindsight, the exact moment when I felt I was very happy was the actual wedding ceremony inside the church, at the altar, while the Sacrament of Matrimony was done, while we were exchanging our wedding vows. 
Everything I was worrying about, those little things which have caused the stress and tears, all of them just faded. All gone.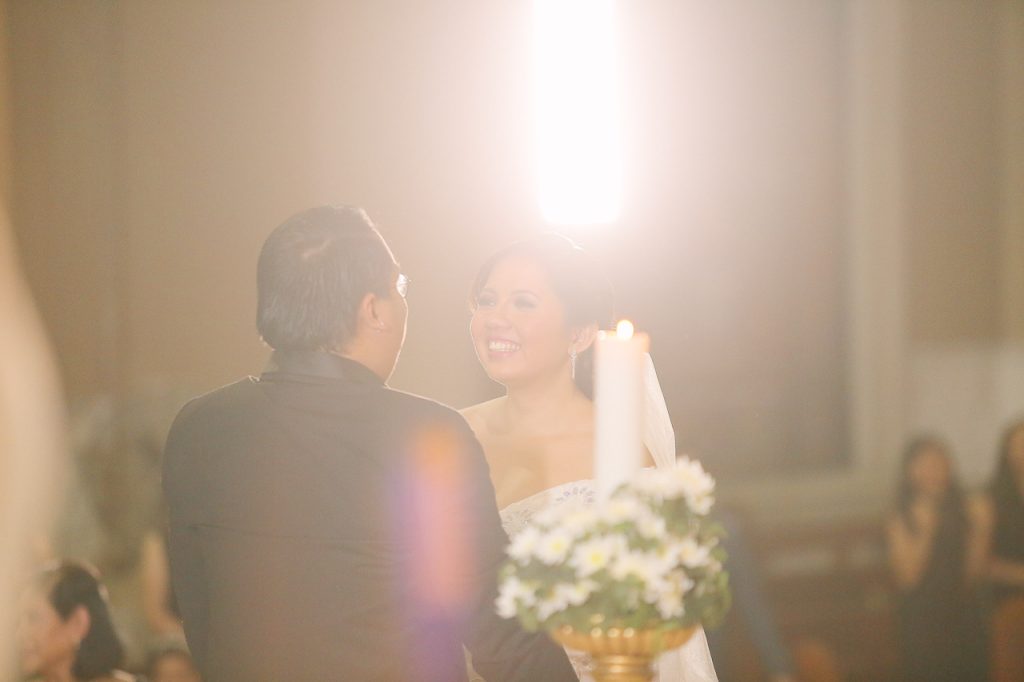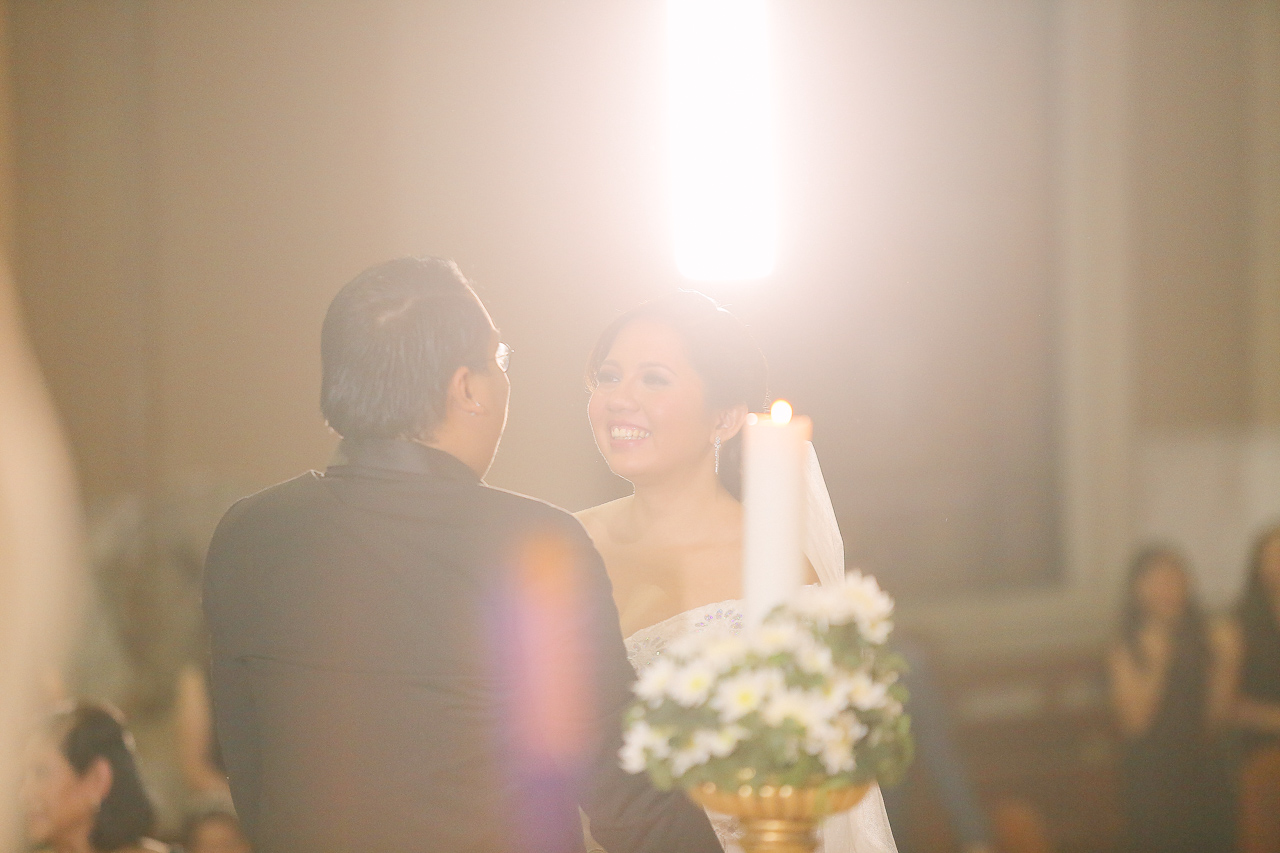 At that exact moment, it was nothing but pure bliss. Joy. Contentment. Gratitude.
Looking straight into Karlo's eyes during those moments, I was very, very happy.
On my part, I was thinking of everything I went through before meeting Karlo – the brokenness of failed relationships, the deep hurt of losing someone over death, those years of basically being 'in the dark' and trying to figure out who might be 'The One' – I realised that I had to undergo through all of those in order for me to appreciate the immense blessing which was given to me after that. Considering the ugly parts of my life, I felt I didn't deserve someone as beautiful as my husband. But there we were, in front of God, our family, friends and loved ones, celebrating the beauty of love.
Forget about the wrong fabric. Forget about the flowers. The escort cards. The photobooth. The mass and reception repertoire. The table seating arrangement. Believe me, those things I was so fussy about just vanished into thin air on the day of the wedding. 
So what's basically the point I want to drive here? Well, I'm not telling you to completely ignore the nitty-gritty details of your future wedding. If you're like me and Karlo who decided to throw a wedding with 350 guests or a friend who decided to go for an intimate ceremony with 40 guests, small details will still matter nevertheless. But to pour your entire energy on those whilst forgetting the essence and meaning of your special day is a huge mistake. 
At the end of the day, when the make-up's gone, the spotlight is off, and you start going through the ordinary days of your married life, you will hold on to those special moments of your wedding day. Even more for those days when things get rocky in your relationship, you will choose to hold on to these beautiful things to serve as a reminder on what you have signed up for at the very beginning. 
That's why on tough days of the week such as Wednesdays, I have the happy moments of my wedding day to hold on to, and after a minute or two just thinking about it, I end up being okay and ready to conquer the rest of the day. 
To officially launch my Wedding Wednesdays series, here's the same day edit (SDE) beautifully done by the professional and creative team of Treehouse Story. Enjoy!