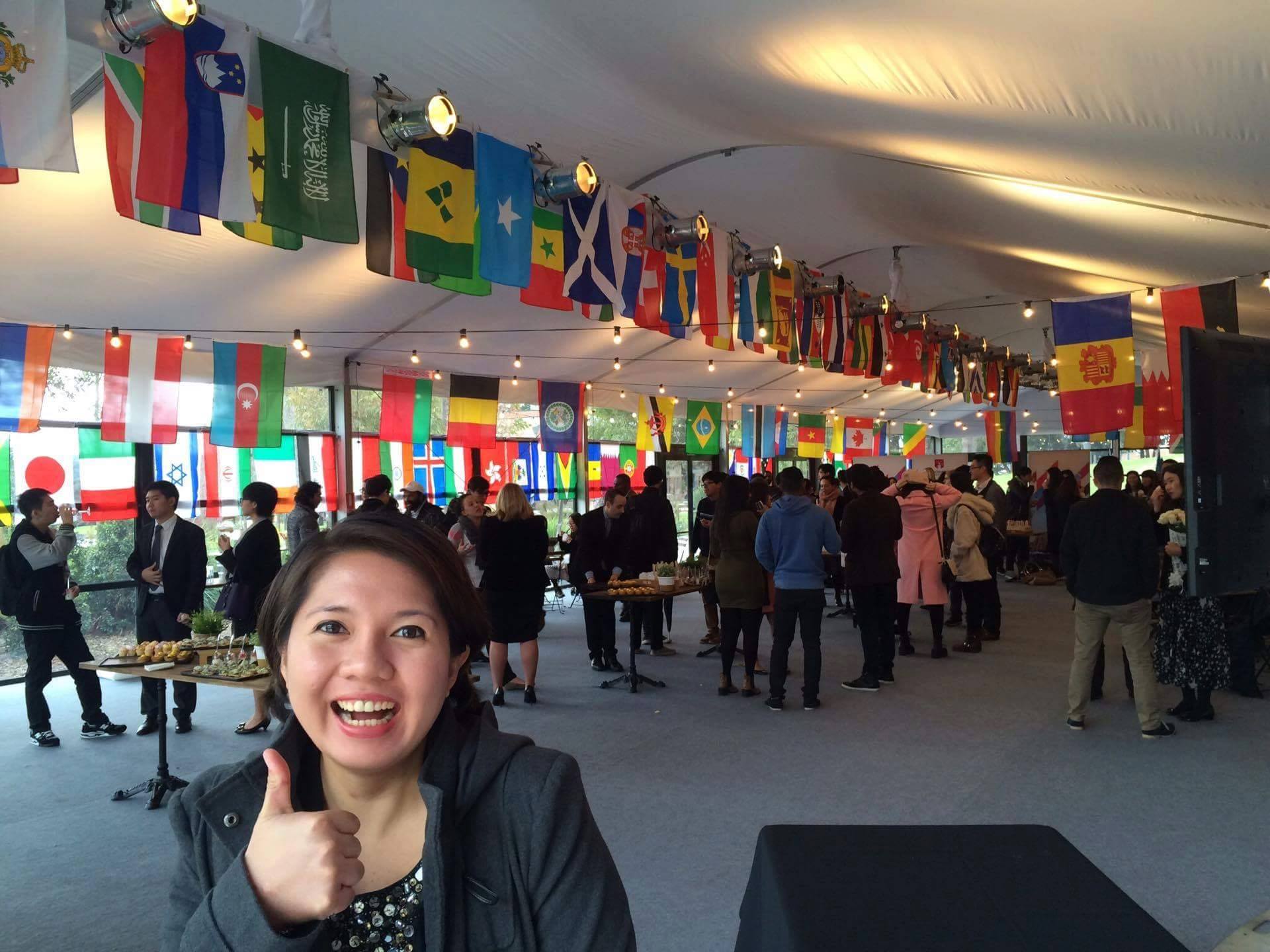 The graduating international students of Macquarie University for 2016 Session 1 were officially sent off by the academics and staff through the International Student Farewell Gathering held today at the Atrium and Lakeside Marquee. Truth be told, I was having qualms in attending since technically, we won't know if we have successfully graduated until our final grades will be released on 15th July. I didn't want to preempt any form of celebration lest I see the final verdict. It's the main reason why I didn't invite any friends in school or colleagues at work. But my husband told me, attending the international student farewell next semester wouldn't be appropriate for me anymore. 2 hours before the event, I finally came to a decision and attended the gathering with Karlo.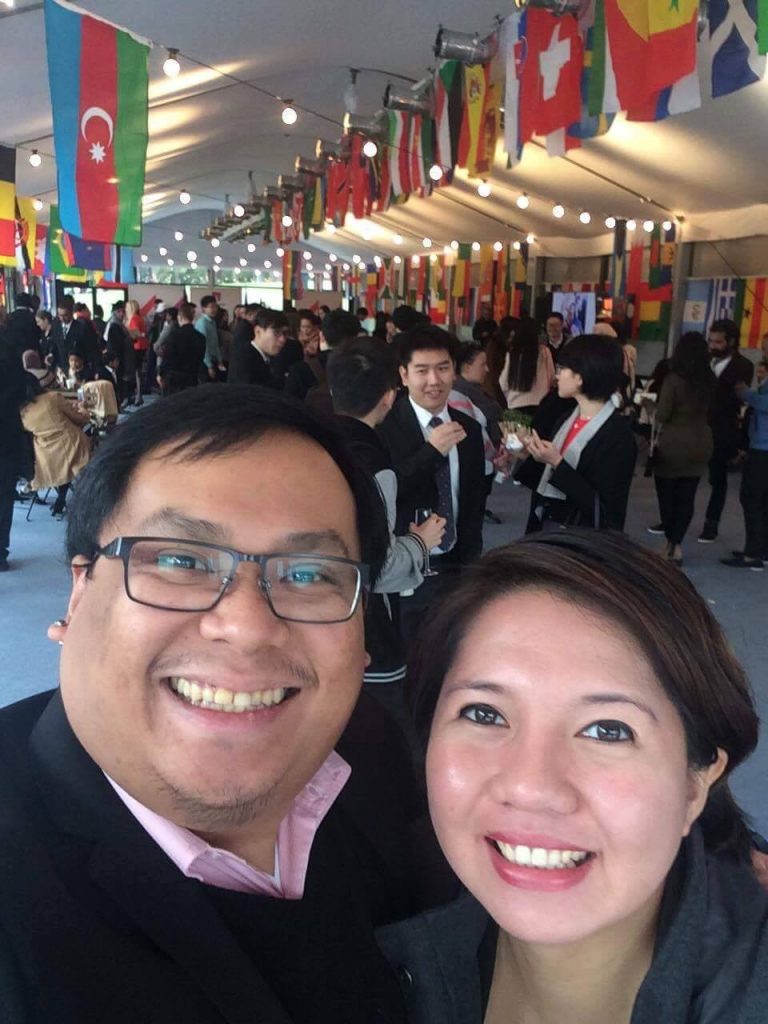 The gathering did not disappoint. I've attended the same function twice for the past 2 semesters because of my friends and in my opinion, this semester's gathering had a better physical arrangement and set-up, with the different country flags serving as the tent's main decor, the outdoor greenery of the university serving as the stage backdrop and with benches and chairs for socials at the other end of the tent.
I also had the great opportunity to listen to Professor Sherman Young's inspiring remarks as he officially sent off us international students. Being the Pro Vice Chancellor of Learning and Teaching in Macquarie, one might expect a serious and very formal speech but he actually delivered it in an easygoing, very simple and casual manner, and me not wanting to miss out on his words, I took notes. He mentioned 4 things which we hope we have learned during our time in Macquarie, and these are: (1) that graduating is only the beginning, (2) to keep learning, (3) to not panic, and (4) to leave the world a better place than we found it.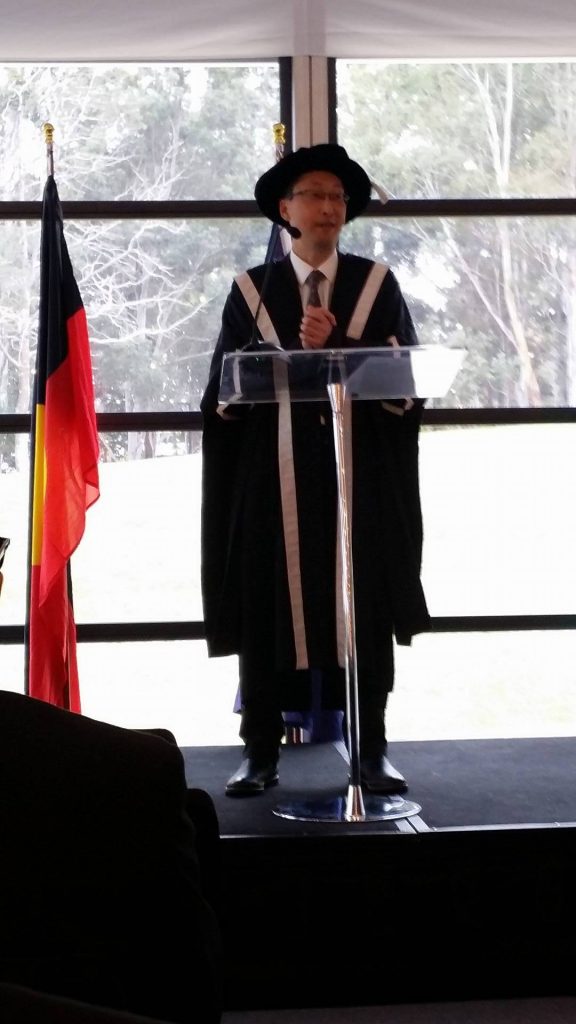 Of course, the international students were represented by 2 students who had the privilege to go up on stage and share about their experience – Anna Colucci, a student from Italy who took Master of Environmental Management and Shabnam Ahmed, a student from India who took Master of Professional Accounting. I met Anna through the student testimonial interview we conducted last year in the office and we met again while doing the Global Leadership Program. Later on, I realised that she and Javier, one of my closest friends at work, were close friends too! Small world 🙂 She's a staunch advocate of the environment and of sustainable initiatives. No wonder her speech focused on that topic and encouraged everyone in the gathering to be mindful of our human footprint on Earth through our actions.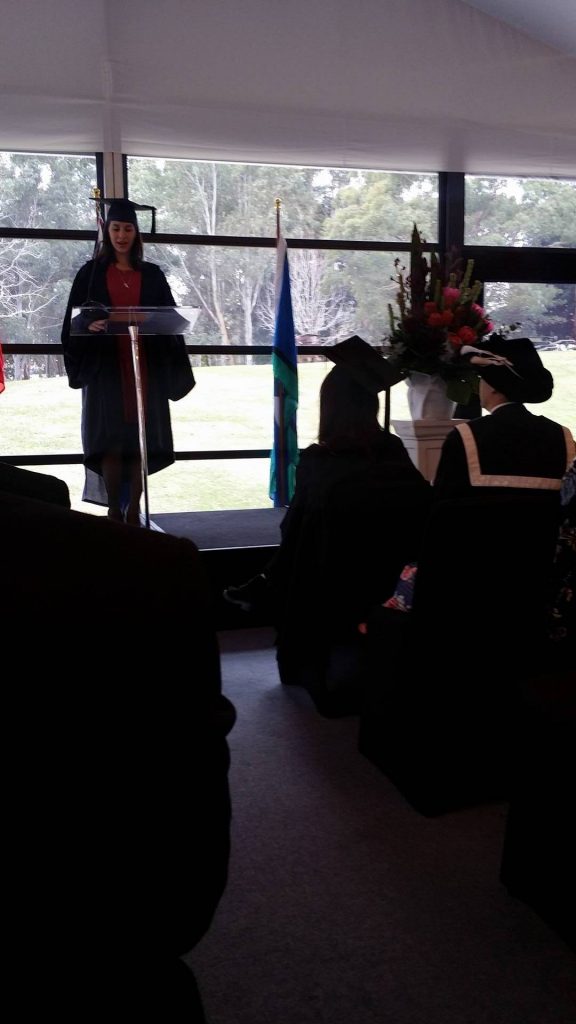 Meanwhile, I met Shabnam at work. I was just a few months earlier than Shabnam when I started in Macquarie International. I remember that week when Shabnam started at work and I would often ask around the name of the new pretty face in the office wearing a hijab. She can pull off the hijab look in a fashionable and trendy manner and it's hard not to miss a smiling face in the office, right? I also got to know more about the Muslim religion through her, Vania, Riasat and Abdullah. It's a wonderful thing to learn how people of different faiths can share the same values and principles and I was able to appreciate the Islamic faith through them. Shabnam's speech hit close to home because she recounted the daily struggles of a full-time international student, doing part-time work, and being a wife as well.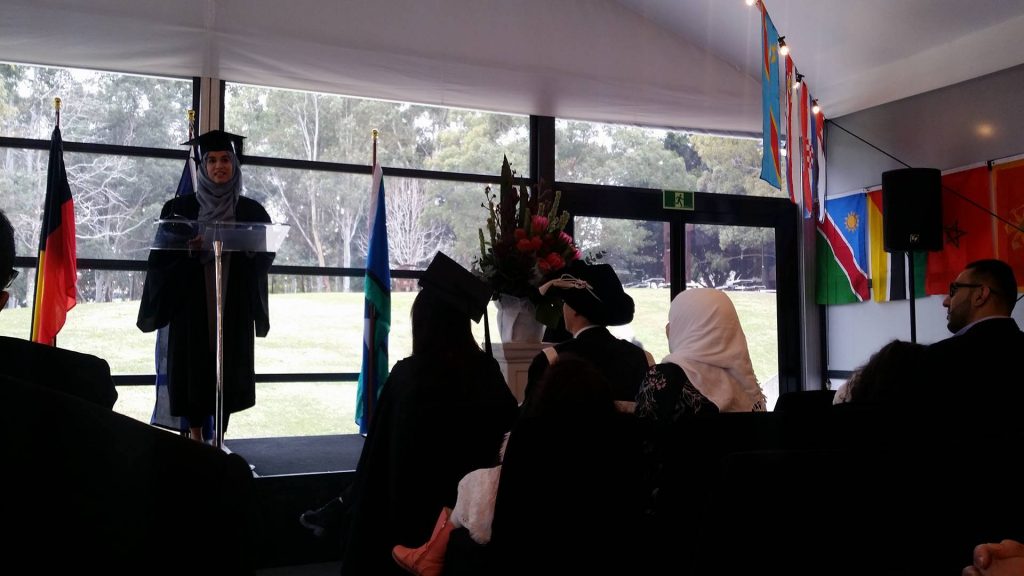 Congratulations and job well done Anna and Shabnam!
So there… It was just a short but meaningful gathering. Canapés and drinks were served afterwards during socials. I'm glad I attended. One of the main reason why this farewell gathering is held right after final exam period is because most international students would have to head back to their home countries. Some might not be able to attend the actual graduation ceremonies in September so, in essence, this gathering serves as their graduation ceremony already. I just hope Macquarie University will consider releasing the grades of graduating students ahead of the normal release date so we won't have to feel guilty in pre-empting celebratory gatherings like this 😛 So, congratulations to me and to the rest of the international students for having 'unofficially' graduated today! Fingers crossed for 15th July but let's claim it! Positive vibes all the way 🙂